The electric oven with no decoration
This model is ideal for those who need a safe but effective built-in pizza oven. The E100 fits perfectly into any interior without taking up much space.
E100 is an electric oven, but built in the shape of a traditional oven with a cupola created using a special type of highly refrac- tory cement. The cupola is specially designed to improve heat circulation.
SIMPLE AND ALWAYS READY TO GO EASY TO USE
LOW POWER CONSUMPTION
A COMPACT OVEN FOR SMALL PLACESE
MORE THAN 100 PIZZAS PER HOUR
The internal rotating tray is made of natural stone, which enables the pizzas (and not only …) to cook uniformly even when working at full capacity. E100 is an innovative oven that is also easy to use. The various heat transfer modes, namely
CONDUCTION
CONVECTION
RADIATION
have been appropriately implemented and developed and are managed by a latest generation control system (PID).
Product Specifications
| | |
| --- | --- |
| E100 | N |
| N° Pizze Ø 33 cm | 7 |
| Max/h pizze | 110 |
| V | 400 / 415 V |
| Hz | 50 / 60 Hz |
| T Max | 450° C |
| Kw Max | 13,5 KW |
| Kw/h 55 pizze | 2 KW/h |
| Kw/h 110 pizze | 4 Kw/h |
| | 53 cm |
| | 22 cm |
| | 210 cm |
| | 125 cm |
| | 165 cm |
| | 780 kg |
| | 820 kg |
Technical design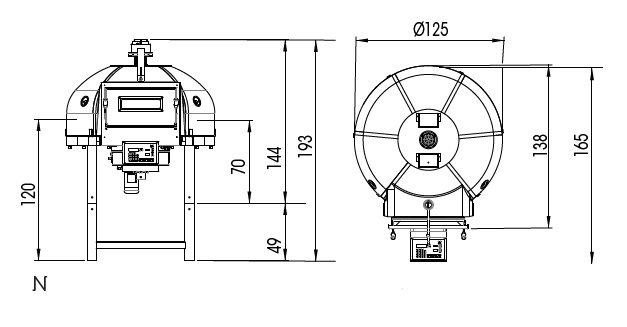 Documentation