The P40 dough divider is designed to produce dough portions continuously without altering the leavening process in any way.
Simply and quickly changing the extrusion cone and/or the type of feeler ena- bles the user to obtain different sized dough balls ranging from 20 to 800g at an hourly production rate that 70 to 280Kg.
The P40 dough divider, entirely manufactured from AISI 304 stainless steel, is equipped with a 40Kg tank capacity. Its rounded construction and special finish make for quick and easy cleaning and a long, wear-free life. The P40 dough divider can be supplied with the following:
• FEP NO STICK Teflon-coated accessories
• Different spirals for various types of dough
The P40's versatility enables the user to process very different types of dough, from firm through to sticky and even gluten-free dough.
An electronic timer that is programmable via the display and a mechanical lever enable the user to set the final portion weight using different methods.
Thanks to its compact size, ease of use and versatility, the P40 dough divider is a great aid in any small to medium size kitchen (such as pizza parlours, tortilla bars, bakeries, kebab shops, etc.) assisting the operator with detailed repetitive jobs. Equipped with safety devices that comply with the most stringent international regulations, the P40 can be purchased and operated as a single unit with the dough rounder KALI for line production of finished products.
Product Specifications
| | |
| --- | --- |
| V | 230/240 V |
| V OPT | 115/120 V |
| F | 1/3 |
| Hz | 50 – 60 Hz |
| Kw | 0,75 + 0,18 Kw |
| | 20 – 800 gr |
| | max 280 kg/h |
| | 47 cm |
| | 43 cm |
| | 78 cm |
| | 50 kg |
| | 70 kg |
| | 55 x 90 x h 67 cm |
| | | | |
| --- | --- | --- | --- |
|   | | | |
| 30 | 20 – 50 | | |
| 35 | 40 – 60 | | |
| 40 | | 60 – 100 | |
| 45 | | 90 – 130 | |
| 50 | | 120 – 160 | 300 – 450 |
| 55 | | 150 – 200 | |
| 60 | | 200 – 300 | 400 – 600 |
| 65 | | | 600 – 700 |
| 70 | | | 700 – 800 |
Technical design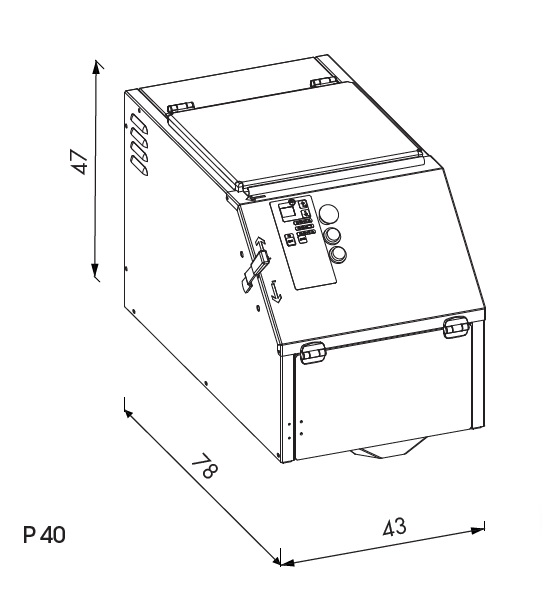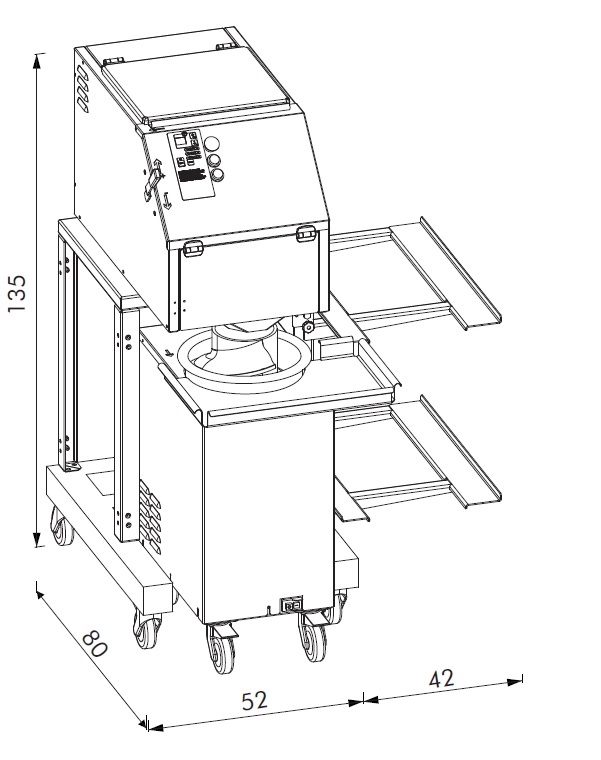 Documentation