Designed specifically to simplify the task of coating products such as hazelnuts, almonds, pistachio nuts, pine nuts, coffee grains, etc.…
TWIRLO is ideal for small to medium-scale operations. The unit is made entirely of AISI 304 steel and comes equipped with an effective and silent speed control.
TWIRLO has been patented because of special features, which include:
its compact size
its special sphere mounting system
TWIRLO is suitable for a variety of different applications and the speed with which the sphere can be re- placed makes product processing and cleaning tasks SIMPLE and EASY.TWIRLO offers a whole range of appropriately machined stainless steel and copper spheres of varying capacities.TWIRLO is equipped with an integrated high-performance fan and duct that feeds filtered air into the sphere when necessary.The silicon cooling-air nozzle is movable and removable so as to facilitate the processing of the product in the tray.
Product Specifications
| | |
| --- | --- |
| V | 230/240 V |
| F | 2 |
| Hz | 50 Hz |
| Kw | 0,37 Kw |
| | 32 cm |
| | 58 cm |
| | 69 cm |
| | 23 kg |
| | 26 kg |
| | 5 – 7-11-16 Lt |
Technical design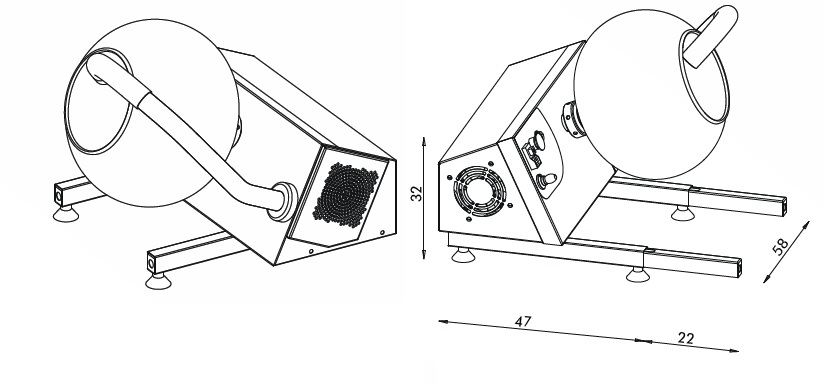 Documentation